The Turkish actress Esra Bilgic aka Halime Sultan has finally had enough of Pakistani fans on Instagram criticizing her bold dressing choices as the star ended up responding to one of the comments telling her what to wear.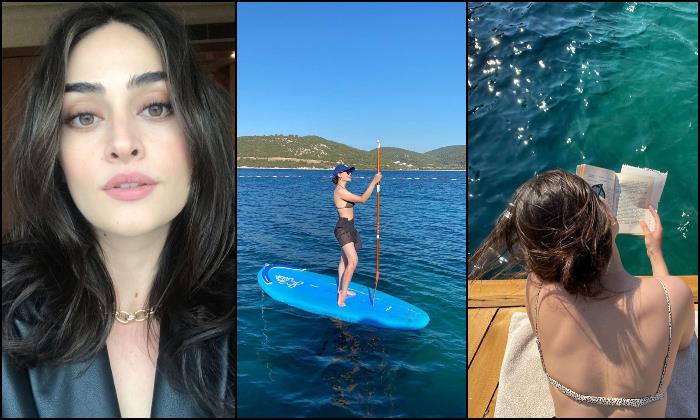 Esra Bilgic gained massive popularity in Pakistan from her roleof Halime Sultan in the Turkish drama serial Dirilis Ertugrul aka Ertugrul Ghazi. However, with the influx of Instagram followers, the star was being trolled and criticized for showing too much skin in some of her photos.
Read more: Hadiqa Kiani paid tribute to Dirilis Ertugrul in her own way.
Esra Bilgic Slams Pakistani Fans for Criticism
The actress kept quiet for a long time and did not respond to any of the criticism and even turned off commenting on one of her posts where Esra Bilgic shared a photo of herself in a bikini enjoying time at the beach.
However, the very next photo she posted had people criticizing her for dressing boldly as everyone thought that they might get to listen and change her style and follow their advice for some reason.
This went on for a while and Esra Bilgic aka Halime Sultan kept quiet but with her most recent photo, the actress had enough and broke her silence finally slamming Pakistani fans for their criticism.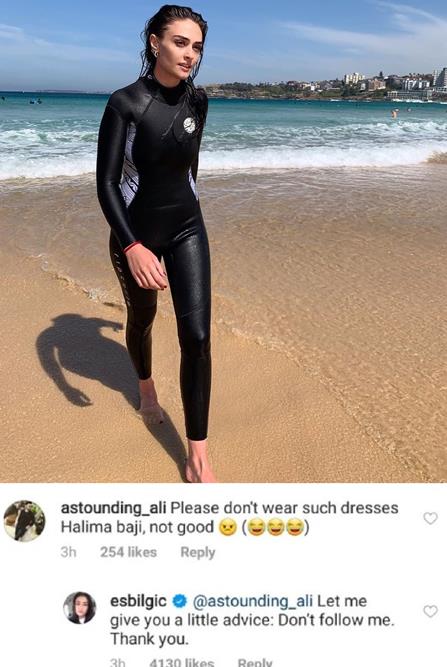 As you can see, some again started to criticize the the actress on her latest Instagram post regarding her choice of bold dressing saying:
Please don't wear such dresses Halima Baji, not good,
The funny thing is that the Instagram post just contained a picture with Turkish text and wasn't even a picture of the actress which is what might have triggered Esra and prompted her to respond saying:
Let me give you a little advice: Don't follow me. Thank you.
The response given to the Pakistani fan has been liked thousands of times with some people calling it "International Bezzati" and hopefully it ends the trolling on her Instagram altogether. However, the post in question has since been removed by the actress.
Most Criticized Esra Bilgic Pictures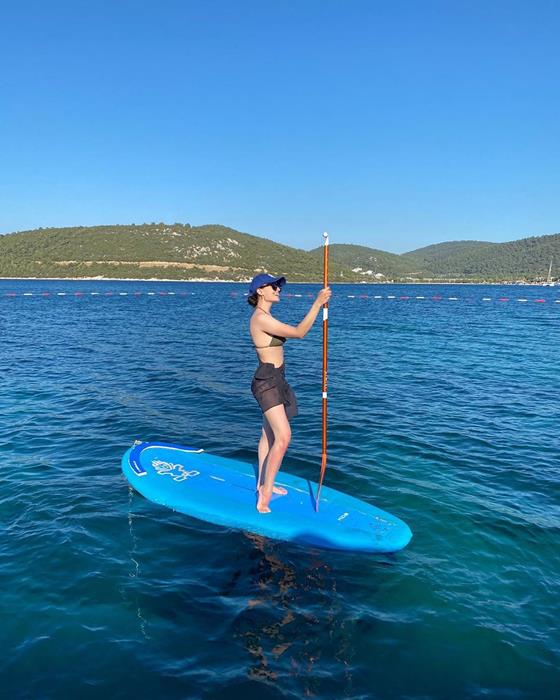 Esra Bilgic Kissing & Dancing Videos
A while back Pakistani fans were finding it hard to believe when they came across Esra Bilgic kissing videos from one of her other TV projects.
Some of the actresses dance videos also went viral showing her having a good time at a wedding which was unacceptable to Pakistani fans as they wanted Esra to live her live as Halime Sultan.
You can check some of the comments on her kissing videos on the post below:
Another star of the Ertugrul series also had picture of herself go viral while wearing a bikini and getting all wet and that too received a lot of criticism form Pakistan fans.
Read more: Ertugrul Ghazi star Burcu Kiratli bikini video upsetting Pakistani fans.