The National Highway and Motorway Police (NHMP) has made M-TAG mandatory to travel on any motorway, including M-2, and here you will find details on 'How to get motorway MTag for for your vehicle?' and 'How to recharge your MTag? so that you can travel on the M-2, M-9 or any other Motorway without any kind of hassle. Furthermore, One Network, the management behind M-Tag is quickly expanding the service to other motorways across the country and if your a frequent traveler then getting the MTag would help you save a lot of time from standing in long queues on the Toll Plazas.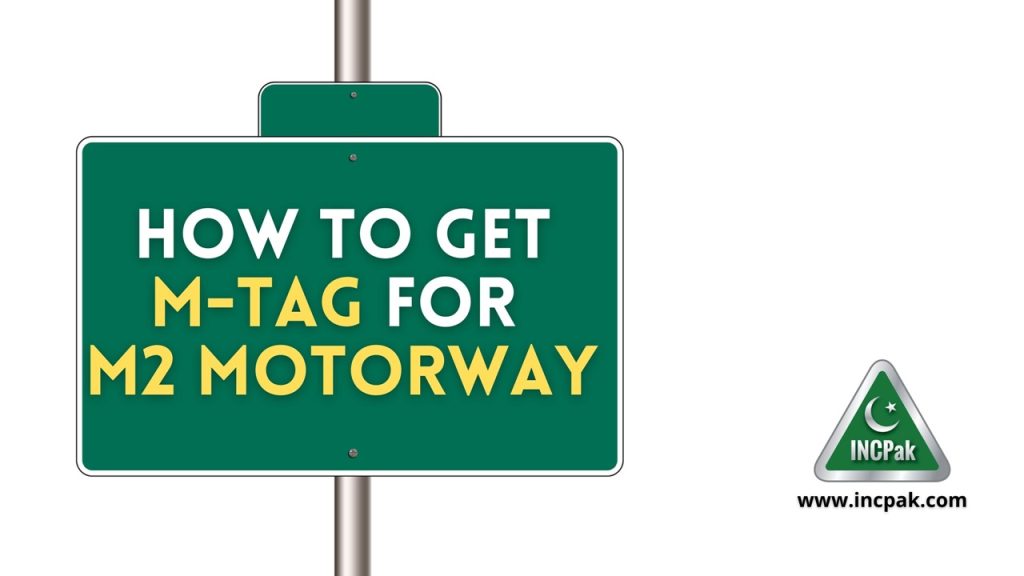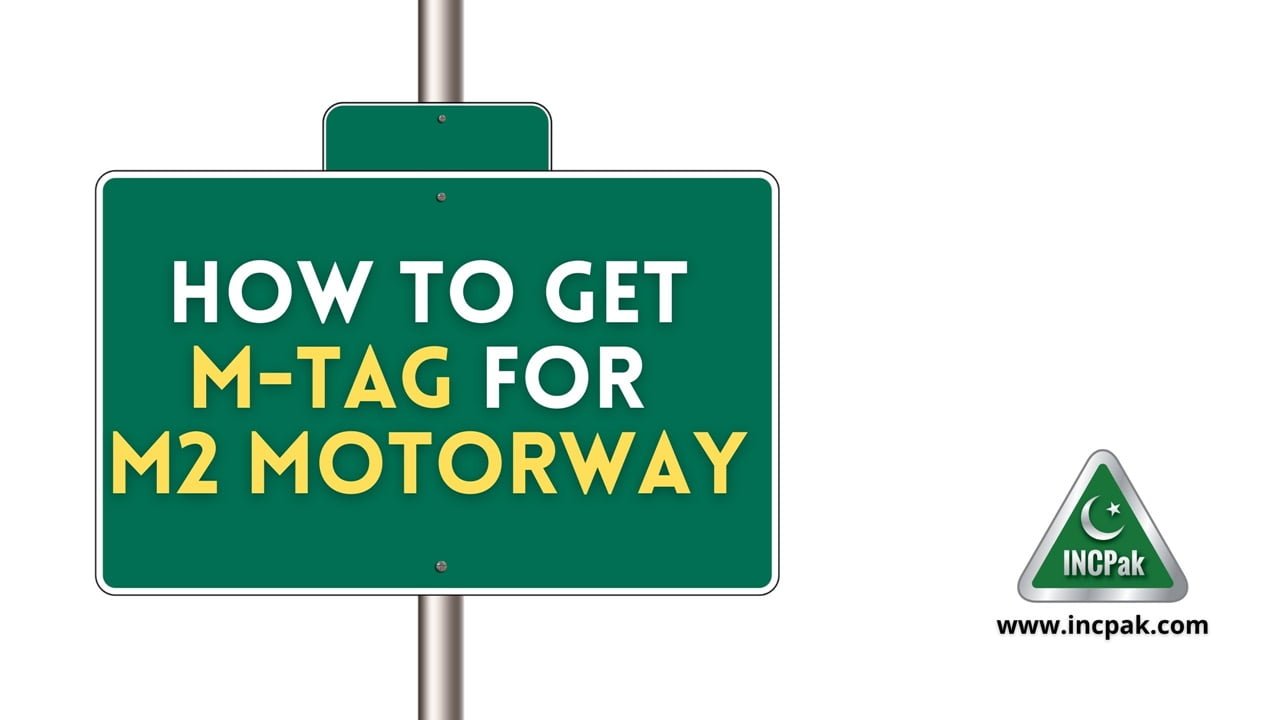 The decision has been made in order to reduce long queues of vehicles at the M2 Motorway Toll Plaza and curb the resulting air pollution from vehicles. Go through the post and learn how to get M-Tag for your vehicle without any hassle. The MTAG is is becoming mandatory for travel on the every Motorway, including Islamabad-Lahore M-2, Islamabad-Peshawar M-1, Lahore-Abdul Hakeem M-3, Pindi Bhattian-Multan M-4, Multan-Sukkur M-5, Hakla-Dera Ismail Khan M-14, Hasan Abdal-Mansehra Expressway E-35 and others.
Read more: No Entry of Vehicles Without M-Tag on M-2 Motorway.
What is M-Tag?
An M-Tag is a prepaid RFID tag that is applied to a vehicle's front windscreen to be scanned at by RFID readers at Toll Plazas.
How to get M-Tag for Motorway?
The easiest way to get MTag for your vehicle is to head to the Motorway Toll Plaza such as M2 or M9 and visit the M-Tag issuance booth that are installed at the side of the Toll Plaza.
Required Documents For M-TAG
CNIC
Vehicle Registration Book
Driving License
It is pertinent to mention that you only require CNIC for registration of M-Tag, it is recommended to keep all other mentioned documents at hand.
UPDATE – Bring your CNIC and get your M-Tag!
The National Highway and Motorway Police (NHMP) has stated that now you only require your CNIC to get your MTAG. However, the citizen needs to be fully vaccinated in order to get the M-TAG. It is pertinent to mention that you need to bring your vehicle along as well in order to get your MTAG.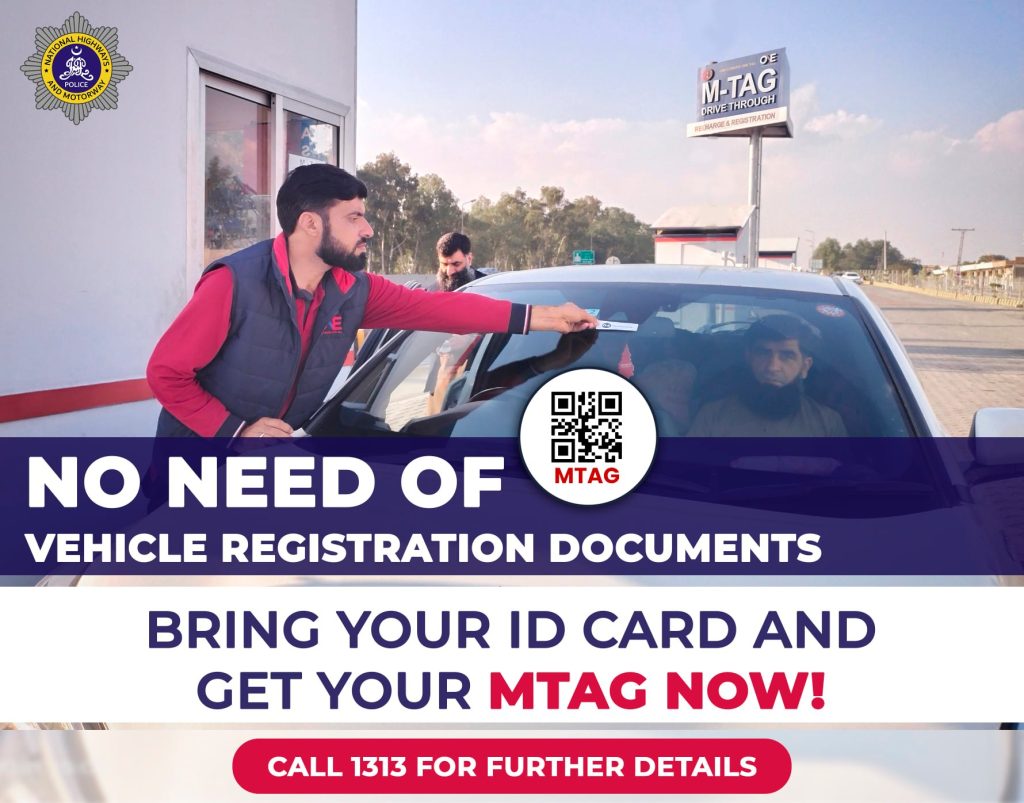 Important Notes
No vehicle is allowed on Lahore Islamabad Motorway without M-Tag.
Unregistered vehicles are now banned on Motorway.
Car Registration Documents are not needed to get the M-Tag.
Ineligibility
You will be ineligible to obtain an M-Tag if your vehicle is not registered. It must be noted that while registration documents are not required to obtain an M-TAG, a vehicle must be registered and have a proper registration number.
List of M-TAG Registration Centers in Lahore
List of M-TAG Registration Centers in Islamabad
What is the cost or fee for M-Tag registration?
There was no cost of MTag registration until 31 December 2021 but a registration fee of Rs. 200 was implemented from 1 January 2022.
Furthermore, there is no requirement of minimum balance either.
How to install M-Tag on vehicle?
The M-Tag Registration Sticker needs to be installed on top of the windshield preferably on the right corner. Please note that the M-Tag Sticker needs to be installed inside of the windscreen and not on the outside.
How to check M-Tag ID?
To check your M-Tag ID, users can use One Network App or call 1313.
You can also check M-Tag ID via SMS to 9909 by sending the following message:
'Mtag <space> CNIC number'
How to recharge M-Tag?
There are several options to recharge your M-Tag, including Jazz Cash, EasyPaisa, UPaisa, Main Service Areas, and One Network Mobile App.
Jazz Cash, EasyPaisa, and UPaisa
You can also recharge your M-Tag using Mobile Banking Apps of Jazz Cash, EasyPaisa, and UPaisa or by visiting any of their merchants.
M-2 Main Service Areas
You can also get your M-Tag recharged at the main service areas on the motorway.
One Network Mobile App
One Network Mobile App has the facility to recharge your M-Tag balance.
How to check MTag balance?
You can check your MTag balance, you can use 1313 Helpline or One Network App.
Government Notification
Read more: One Network App to Manage Motorway M-TAG [Download].
Follow INCPAK on Facebook / Twitter / Instagram / YouTube for updates.