ISLAMABAD: The Frontier Work Organization (FWO) and National Highway and Motorway Police (NHMP) has decided to increase Lahore Islamabad (M2) Motorway Toll Rates by 10 percent effective from 26th August, 2021.
The existing Islamabad Lahore M2 Motorway toll tax for Cars/Jeeps is Rs 830 and which will be Rs 910 from 26th August 2021. Last year it was increased 10 percent, similarly being increased and expected to increase next year as well by 10 percent.
According to the National Highway Authority (NHA) said that the latest increase in tax is a result of a 20-year agreement between NHA and More, under which toll tax will be raised by 10 percent every year on 26 August.
Lahore Islamabad Motorway M2 Toll Rates List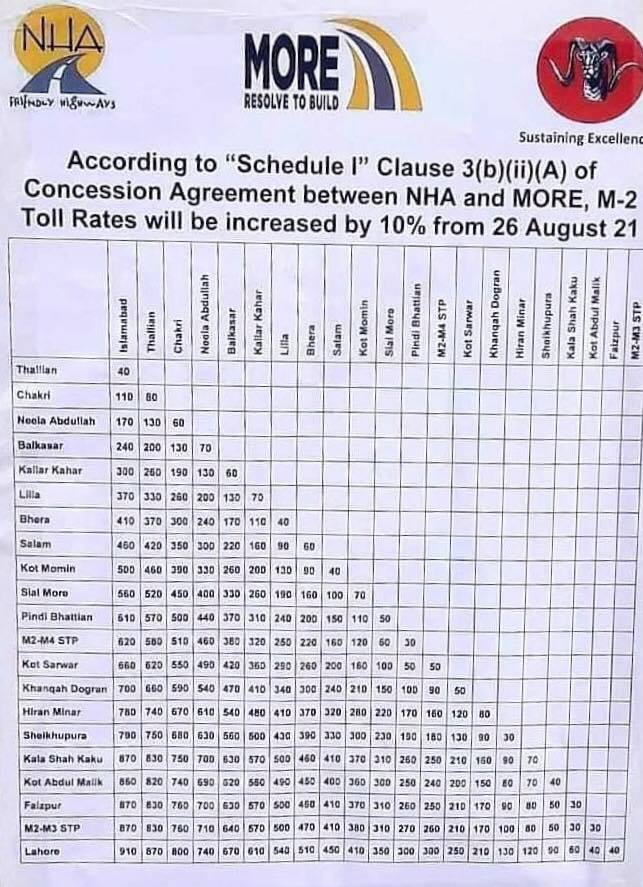 Meanwhile, M3 and M4 Toll Rates remain unchanged, The toll tax for cars from Multan-ShorKot Motorway (M4) is Rs 210 and Sukkur-Multan Motorway (M-5) is Rs 680 for cars and Jeeps, it is effective from 2018. 
Also Read: Sukkur Multan Motorway (M5) [Travel Advisory]
The toll rates for Havellian-Hassan Abdal (E35) is Rs 60 and for Havellian to Manshera Expressway (E-35) it is Rs 70 and this is also effective from 2018.
Trending: MG 5 2021 Sedan Test Units Arrive in Pakistan
Follow INCPAK on | Facebook | Twitter |Instagram | for updates.