PM Imran Khan inaugurated the Azakhel dry port in Nowshera district today which is expected to boost trade and economic activity in Khyber Pakhtunkhwa.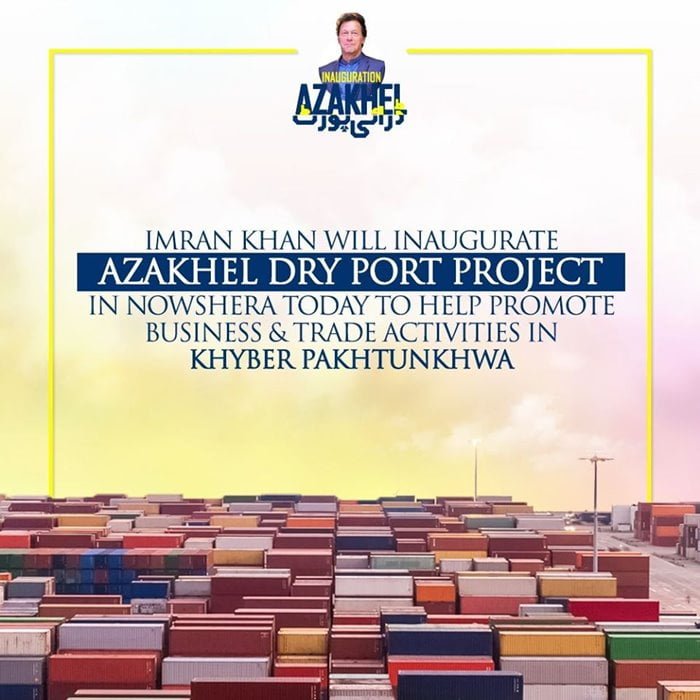 The total cost of the port is reportedly $500 million but that is a small price to pay if it ends up promoting business in the region.
The project will help with freight transfer from Karachi as well as transferring of freight via road to Afghanistan.
Minister of Defence, Pervez Khattak was present at the inauguration ceremoney and talked about some issues that the people of Azakhel have that the Minister of Railway, Sheikh Rashid could address saying:
I am taking this opportunity to tell the railways minister and the prime minister the problems of the people of Nowshera and hope that Sheikh Rashid and the prime minister will announce some packages to solve these problems,
PM Imran Khan congratulated the Railway Minister on the completion of the Project.
Sheikh Rashid did mention future plans that he had in mind for the project saying:
I would like to suggest that we add the Peshawar-Jalalabad to the ML-1 track. I assure you prime minister sahib if that happens all smuggling will end in the country.
According to the Railway Minister there were plans by the government to improve on railway system within the province of KPK and said that the Railway sector would become profitable within four years if everything went according to plan.
He also mentioned that about 100,000 jobs will open up in the as soon as the ML-1 track opens up.
Rashid seemed committed to improving and strengthening the railway system saying:
When it had started, the China-Pakistan Economic Corridor (CPEC) was solely based on a single railway track, other things were simple minor projects. Today, railways has been left behind because of negligence and CPEC has moved forward,
According to the Railway Minister, Sheikh Rashid, improvement in railway will help promote tourism in the country. Some of the tracks that are proposed such as Loi Shalman area of Kyber tribal district which is a mountainous region with beautiful landscapes will help promote tourism to these areas.
The Railway Minister also outline other projects in surrounding areas that would prove beneficial to the tourism industry.
Read more: First lunar eclipse of the year 2020 tonight.