Renowned French Magazine, Charlie Hebdo has once again ignited critical backlash and public outrage globally, owing to its mocking cartoon of Meghan Markle and The Queen Elizabeth II. The comic strip depicts UK's queen kneeling on the neck of Duchess of Sussex, and satirizes the death of George Floyd at the same time. Here to mention, it is the same magazine that had created the caricature of Prophet Muhammad (PBUH) previously.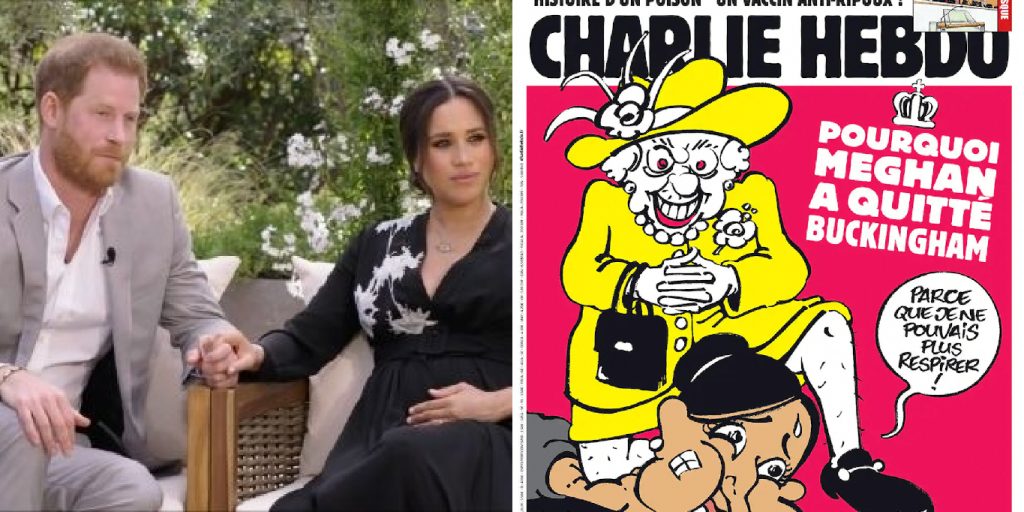 The Paris-based weekly publication, Charlie Hebdo, which was founded in 1970, is famous for its provoking and satirical cartoons and takedowns of politicians, public figures and religious symbols. However, the publication often crosses the line and is condemned for spreading racism, Islam phobia, sexism, and xenophobia.
Likewise, this time, the journal has taken the initiative to mock the Royals and the saddened death of George Floyd simultaneously.
Read More: India takes Pakistani 'PIA Balloon' into custody in occupied Kashmir
Cartoon of Meghan Markle and The Queen
The magazine, on Saturday, had posted a caricature titled "WHY MEGHAN QUIT BUCKINGHAM." The portrait was an obnoxious cartoon of Meghan Markle and The Queen of United Kingdom. Queen Elizabeth was kneeling on Meghan, choking her. And, Meghan's part of voice read "BECAUSE I COULDN'T BREATHE," comparing the struggles of Meghan to George Floyd in the moments he was brutally choked to death.
Consequently, the French publication has given birth to international outcry, and the calls for permanently cancelling Charlie Hebdo are in the air. Other than that, many significant personalities have opposed the horrific cartoon of Meghan Markle and The Queen, disapproving the magazine in the process.
Halima Begum, CEO of race equality think tank the Runnymede Trust, said the cartoon was "wrong on every level."
"The Queen as George Floyd's murderer crushing Meghan's neck? Meghan saying she's unable to breathe? This doesn't push boundaries, make anyone laugh or challenge racism. It demeans the issues & causes offence, across the board," she stated on Twitter.
The subject was followed with numerous tweets from all over the globe.
Charlie Hebdo's cartoon of Prophet Muhammad (PBUH)
It is pertinent to mention that Charlie Hebd's cartoon of Meghan Markle and The Queen has surfaced subsequent to Meghan and her husband Prince Harry made a series of critical accusations against the royal family in an interview with Oprah Winfrey. The couple hadn't revealed who had made the remarks, but said it wasn't Queen Elizabeth II or her husband, Philip, the Duke of Edinburgh.
Moreover, it is not the first time that Charlie Hebdo has ignited international backlash. Back in 2015, the satirical French magazine published blasphemous cartoons of the Muslim Prophet, Muhammad (P.B.U.H). The heinous incident was followed with two brothers Said and Cherif Kouachi bursting into the magazine's newsroom, as they gunned down staffers, killing 12 and wounding 11.
Read More: Rihanna supports Indian farmers protest, stirs havoc in India