Renowned as one of the best hypercars in the world, the Veyron Super Sport has asserted the title as  the fastest cars. Although several manufacturers of supercars have tried to take away this name from this vehicle form, not one of them has did well in doing so. In fact, the Veyron SS made a record-breaking pace when it was tested in Germany, in 2010. Since then, the Bugatti has become a staple when it comes to very quick and pricey cars.
Check Out The Video
 Bugatti Veyron SS
2013 World Record Conspiracy 
 US car maker Hennessey that its 928 kW (1,244 bhp) Hennessey Venom GT was the new world's fastest production car, taking the crown from the Guinness World Record-holding Bugatti Veyron Super Sport. With a recorded speed of 427.6 km/h (265.7 mph) the Hennessey was 3.4 km/h (2.1 mph) slower than the Veyron but Hennessey dismissed Bugatti's official record saying that the Veyron Super Sport was restricted to 415 km/h (258 mph) in production form and that for it to achieve its record top speed of 431.0 km/h (267.8 mph), the car used was in a state of tune not available to customers. Hennessey said its Venom GT, on the other hand, was road-ready and unmodified and was therefore a production car in the strict sense of the term.
Bugatti Veyron SS – Since 2010 holding up the record even after 5000 road tests, even in 2013 no one could steal the title of  Bugatti Veyron SS – It's about the stability, control and the power. The Cabin ( Cockpit ) Only Perfection can be seen. Power is transmitted to the pavement via four-wheel-drive and a seven-speed dual-clutch automated manual transmission.
Key competitors
Though nothing short of a jet can match the speed, power (and price) of the big Bugatti, similarly quick and rare performance machines include the 
Koenigsegg Agera R
, the Lamborghini 
Aventador LP700-4
 and the 
Pagani Huayra
.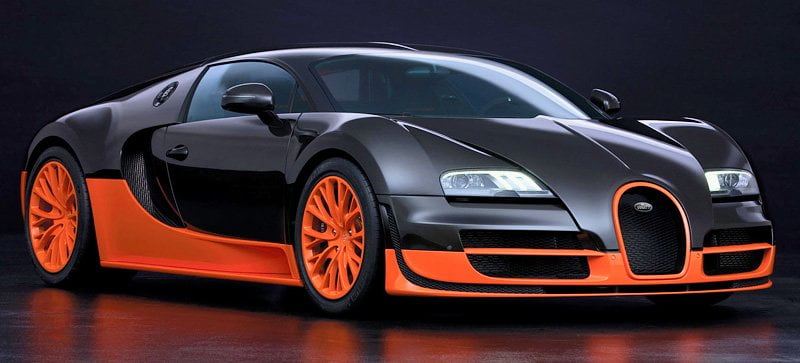 The Veyron features an 8.0-litre, quad-turbocharged, W16 cylinder engine, equivalent to two narrow-angle V8 engines. Each cylinder has four valves for a total of 64, but the VR8 configuration of each bank allows two overhead camshafts to drive two banks of cylinders so only four camshafts are needed. The engine is fed by four turbochargers and displaces 7,993 cubic centimetres (487.8 cu in), with a square 86 by 86 mm (3.39 by 3.39 in) bore and stroke.