KARACHI: Toyota Indus Motor Company (IMC) has issued a circular revealing the new prices of the vehicles effective from 20th April 2019.
Toyota Indus Motor Company (IMC) revised the prices of the vehicles fourth time since new government took office and the second time in this year 2019.
The latest price hike comes after Government made changes in Federal Cabinet and due to currency inflation against US Dollar.
Read More: Asad Umar Steps Down As Finance Minister: Press conference
The circular issued to the Toyota dealership states the new price of Toyota Corolla Xli 1.3 (1299cc) Ex-Factory price with 17% GST for filer Rs 2,139,000/- and Non-filer Rs 2,174,000/- whereas Altis Grande CVT 1.8 price Rs 3,489,500/- for Filer and for a Non-Filer Rs 3,639,000/- almost similar to Honda Civic X 2019 1.5 Turbo variant.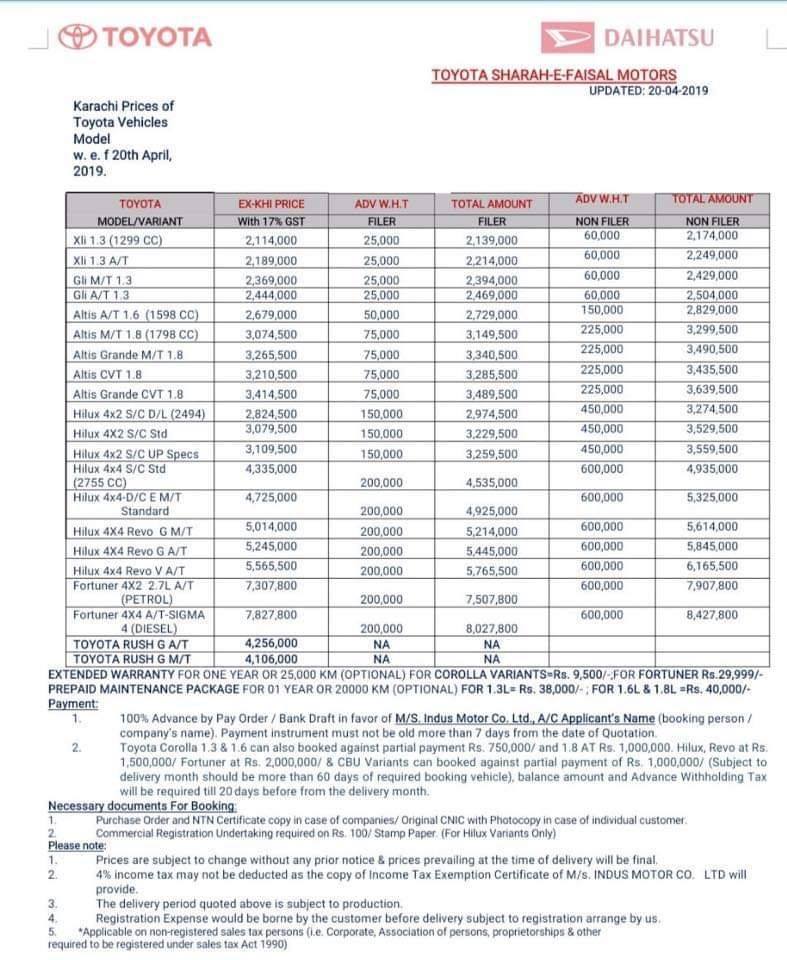 The notification states that 100% advance pay order / Bank Draft shall be made in favor of M/S Indus Motor Co Ltd.
However, Toyota Corolla 1.3 and Toyota Corolla 1.6 can be booked against partial payment of Rs 750,000/- Toyota Altis Grande 1.8 Rs 1,000,000/-, Toyota Hilux, Revo at Rs 1,500,000/- and Toyota Fortuner at Rs 2,000,000/- (subject to delivery month should be more than 60 days of required booking vehicle).
Earlier, Atlas Honda revised the prices of the vehicles and so as Pak Suzuki, It is expected that AL Hajj Motors FAW will revise the prices soon as well.
Read More: Honda Atlas Revised Automobiles prices
The uncertainty in the business community continues to affect the Automobile industry and prices hike due to Pakistani Rupee devaluation against US Dollar.
KIA – Lucky to launch Kia Sportage and Kia Picanto in Pakistan booking of Sportage starts June 2019 & delivery in end of July/ start of August and booking of Picanto to start in August 2019 & delivery in October 2019.
Follow INCPAK on Facebook / Twitter / Instagram for updates.